A garden in a bottle is a miniature garden that refers to the concept of terrarium and that allows you to decorate corners of the house in an unusual and original way.
Bottled plants can be easily composed by choosing different types of containers, collected also thanks to the recycling of what glass we have at home.
The feature to keep in mind is that the containers all have a body that is fairly closed at the top, in order to keep an atmosphere quite saturated with humidity inside.
In this way the leaves of the plants remain impregnated with water and create a closed circle ideal for proceeding with the cultivation.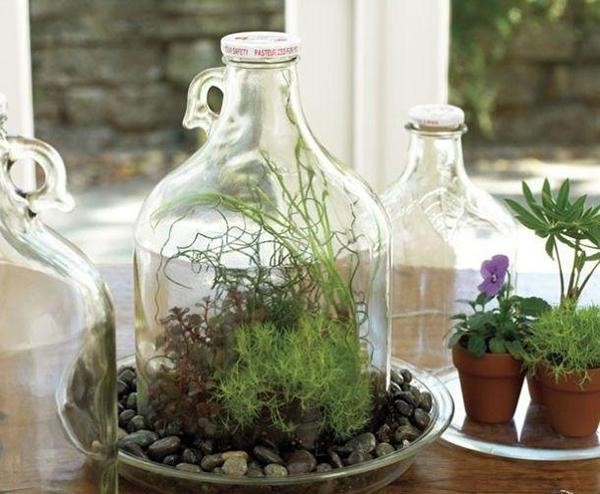 Here are the steps to follow to create your own terrarium, once you have chosen the glass container, you must also identify the plants to grow. Then it recovers:
• expanded clay or crushed stone to create a first draining layer to be placed on the bottom;
• soil, corrected with peat and sand, for greater porosity;
• small succulents and young cuttings;
• decorative elements, such as shells, pebbles, moss.
Once the plants have been planted, wet everything with the nebulization to be carried out daily or three times a week, depending on the plants inserted, to maintain the right amount of humidity inside the container and promote the growth process of the plants.
The best species for terrarium cultivation are for example Aechmea Fulgens, Pellaea Rotundifolia or Saintpaullia, Fittonia Red Vein, Cryptanthus Pup, Ficus pumila Quercifolia, Selaginella uncinata, able to live without problems in a very humid environment, with a porous and light substrate, thanks also to a modest root system.
Succulent or succulent plants are well suited to the composition of terrariums, thanks to their reduced care and need for maintenance.
Inside a closed bottle it is possible to create a perfect self-sufficient ecosystem: the plants inserted in the glass container, through photosynthesis, use sunlight to transform carbon dioxide and water into glucose, producing oxygen.
The humid air that is created inside the glass envelope tends to precipitate like a miniature rain, keeping its quantity constant, while the bacteria in the soil use oxygen to decompose dead plants, releasing carbon dioxide and thus completing the air cycle.
The micro-garden in the bottle can also be useful for educational purposes to approach children to biodiversity.
Source: https://www.lavorincasa.it/