The record-breaking twelve months preceding theInternational Year of Glass. The new data, released by FEVE - Fédération Européenne du Verre d'Emballage, attest to a 2021 beyond expectations for glass packaging.
A resilient sector
After the decline in 2020, glass packaging is regaining the scene, testifying to a sector that is recovering, despite the many challenges dictated by the crisis during 2021. The glass industry has responded presently to an exceptionally high market demand and closed the year with a volume increase of the production of glass packaging for the food and beverage sector equal to 5%, compared to the values ​​of 2020. The highest level ever recorded.
The numbers of success
According to the data provided by FEVE:
in 2021, over 4 million tons were produced, or 83,3 billion glass packaging (bottles and jars), for European and global markets.
Since 2012, the production of glass containers has registered an increase of 18,6%, with an average growth rate of 1,7% per year.
The production of glass bottles for the perfumery, cosmetics and pharmaceutical segments recorded an increase of 2,2%, reaching 13,6 billion units at the end of 2021.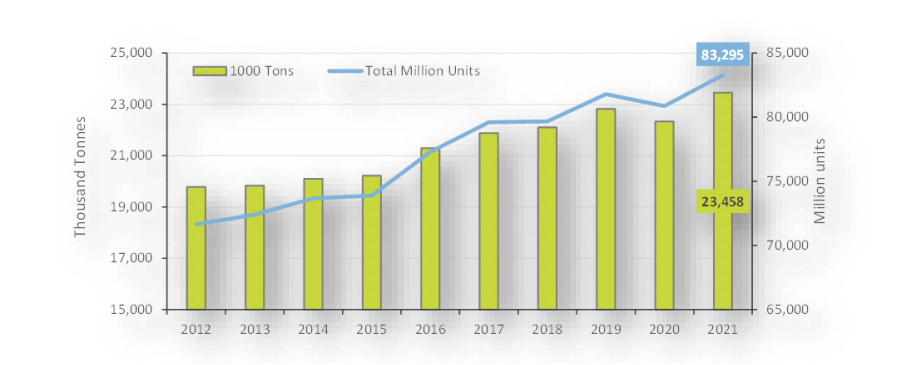 The satisfaction of the FEVE President
In the face of the data, Vitaliano Torno, President of FEVE, wanted to underline the strength and tenacity of the glassworks, capable of supporting unprecedented demand and working at a fast pace to meet customer needs, despite the uncertainties about the supply of energy. And raw material and the increase in production costs, which have characterized the last two years.
The increase in demand for this material also shows that glass packaging remains the preferred choice of customers to improve products, communicate quality and value and deliver safe containers for the health of consumers and that of the environment.
Towards new goals
This record, recorded in such a significant year for glass, is testimony to the uniqueness of this material, whose future will be just as prestigious, if not even more prestigious, than its past.
This recognition also signals the importance of the circular economy model, represented by glass packaging, and serves as a further encouragement to innovate and strengthen the sector's sustainability footprint with cutting-edge technologies.
Source: feve.org
Stay up to date on the latest news from the world of glass, follow Vitrum on Twitter!